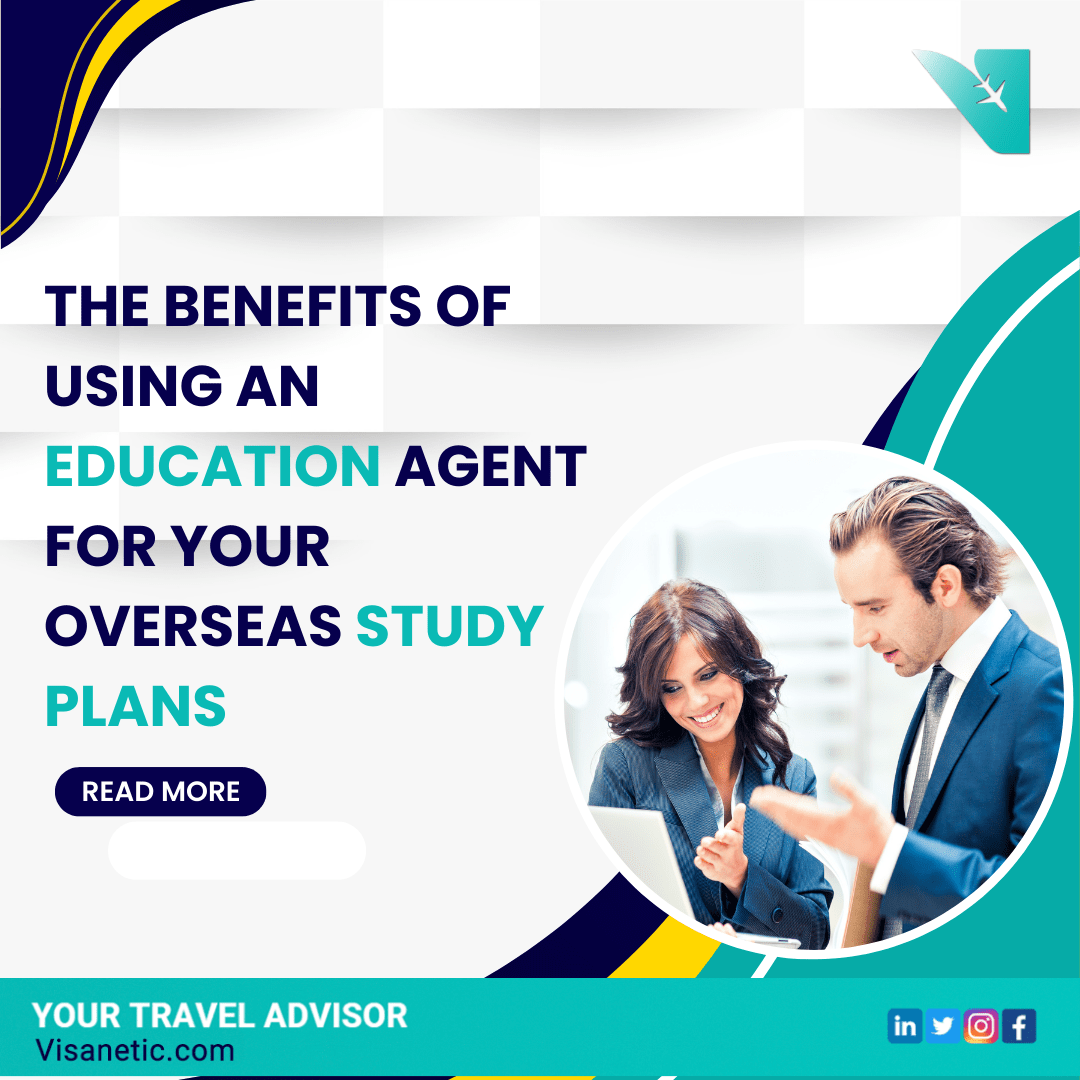 The benefits of using an education agent for your overseas study plans
While studying abroad can be an enriching and transformative experience, it can also be difficult and complex. You may have to deal with unfamiliar education systems, admission processes, visa requirements, language barriers, and cultural differences. Because of this, many students decide to enlist the aid of an education agent to assist them in making plans for their studies abroad.
A person or organization known as an "education agent" represents foreign universities and colleges in their home nation and helps national students apply for programs and visas. Education agents can also offer guidance and insight into other matters such as accommodation, travel, insurance, and scholarships. Using an education agent can offer you several advantages, such as:
Saving time and money: An education agent can help you find the right course and institution that match your academic goals, budget, and preferences. They can also help you with the application process and ensure you submit the correct documents to avoid errors or delays. This can save you time and money that you would otherwise spend researching, applying to, and contacting different institutions by yourself.
Getting expert knowledge: An education agent can provide you with up-to-date and accurate information about the education system, admission requirements, visa regulations, fees, and scholarships for your chosen destination. They can also help you prepare for admission or visa interviews and prove your credibility as a genuine student. An education agent can also share their local knowledge and experience of living and studying abroad and give you tips on how to adjust to a new culture and environment.
Getting personalized support: An education agent can offer you personalized support throughout your overseas study journey. They can help you with any questions or issues that may arise before, during, or after your studies. They can also help you with your career development and further study options if you wish to continue your education abroad.
How do I choose a good education agent?
Not all education agents are the same. Some may have formal working relationships with specific institutions, while others may offer a wider range of options. Some might possess greater expertise and qualifications than others. Some may charge fees for their services, while others may offer them for free or get commissions from the institutions they represent. Therefore, it is important to choose a good education agent that suits your needs and expectations. Here are some tips on how to choose a good education agent:
Do your research: Before contacting an education agent, do some research on your own about your study options and preferences. This will help you narrow down your choices and have a clear idea of what you want. You can also research different education agents online or ask for recommendations from friends or family who have used them before.
Check their credentials: Make sure the education agent you choose is qualified, experienced, and reputable. You can check if they have certifications or accreditations from recognized organizations such as the British Council or the Quality Assurance Agency. You can also check if they have positive reviews or testimonials from previous clients, or if they have any complaints or legal issues against them.
Compare their services: Compare the services and fees of different education agents and see what they offer and how they differ. Ask them about their scope of work, their communication methods, their turnaround time, their success rate, and their refund policy. You should also ask them about their relationship with the institutions they represent and how they can help you with scholarships or discounts.
Trust your instincts: Finally, trust your instincts and choose an education agent with whom you feel comfortable and confident. You should be able to communicate openly and honestly with them and feel that they understand your needs and goals. You should also feel that they are professional, reliable, and supportive throughout your overseas study journey.
Using an education agent can be a smart decision if you want to study abroad successfully and smoothly. An education agent can help you find the best course and institution for you, assist you with the application and visa process, advise you on other aspects of studying abroad, and provide you with ongoing support. However, not all education agents are equal, so you need to choose a good one that meets your standards and expectations. By following the tips above, you can find a good education agent that will help you achieve your overseas study dreams.