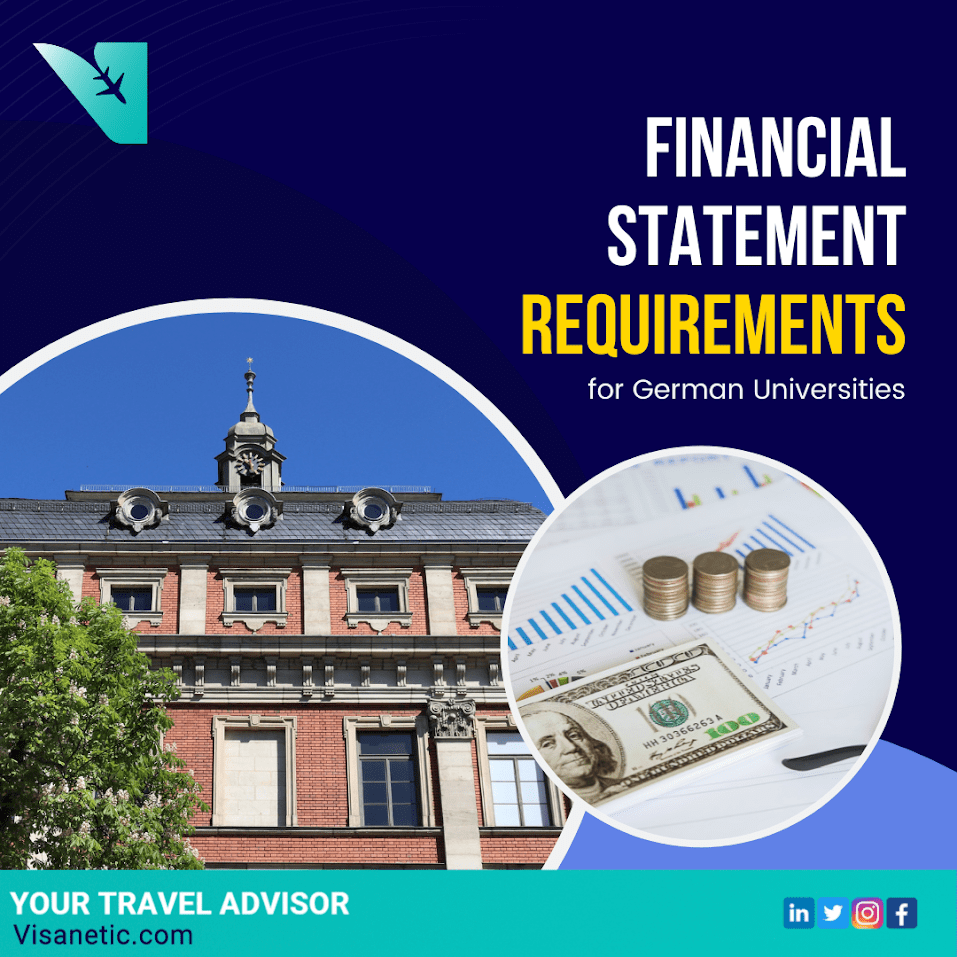 Financial Statement Requirements for German Universities
Are you planning to study in Germany? If so, you may need to prepare some financial documents to prove your financial resources and eligibility for scholarships or tuition waivers. Here are some of the common financial statement requirements for German universities and how to meet them:
Blocked account
A blocked account (Sperrkonto) is a special type of bank account that restricts the amount of money you can withdraw per month. It is usually required for visa applications and enrollment as proof of financial resources. The minimum amount required for a blocked account is €10,332 for one year.
You can open a blocked account with a German bank or an online provider authorized by the German Federal Foreign Office. You will need to fill out an application form, provide a copy of your passport, and receive a confirmation of admission from your university. You will also need to transfer the required amount to the blocked account and pay a service fee.
Once you arrive in Germany, you will need to activate your blocked account by showing your passport and residence permit at a branch of your bank or online provider. You will then receive a debit card that allows you to withdraw up to €861 per month from your blocked account.
Annual financial report
An annual financial report (Jahresabschluss) is a document that shows the financial performance and position of a company or an issuer of securities in Germany. It must contain a balance sheet, an income statement, a cash flow statement, a statement of changes in equity, and notes to the financial statements. It must also be audited by an independent auditor and made available on the Bundesanzeiger website.
If you are a company or an issuer of securities in Germany, you may need to submit an annual financial report to comply with the German Commercial Code (Handelsgesetzbuch) and the Securities Trading Act (Wertpapierhandelsgesetz). The deadline for submission varies depending on the type and size of your company or issuer. For example, public limited companies (Aktiengesellschaften) must submit their annual financial report within four months after the end of their fiscal year.
To prepare an annual financial report, you will need to follow the accounting standards and principles that apply to your company or issuer. You must also provide your auditor with a certificate of registration or exemption from registration provided by the Chamber of German Public Auditors (Wirtschaftsprüferkammer).
Proof of income or scholarship certificate
Some universities may also require you to provide proof of income (Einkommensnachweis) or a scholarship certificate (Stipendienbescheinigung) if you are applying for a scholarship or a tuition waiver. The amount and format of these documents may vary depending on the university and the scholarship program.
Proof of income is a document that shows your monthly or annual income from various sources, such as salary, pension, rental income, etc. You may need to provide official documents such as payslips, tax returns, bank statements, etc. to verify your income.
A scholarship certificate is a document that shows that you have been awarded a scholarship from a recognized organization or institution. It should include information such as the name and contact details of the scholarship provider, the amount and duration of the scholarship, the purpose and conditions of the scholarship, etc.
To obtain proof of income or a scholarship certificate, you will need to contact your employer, tax authority, bank, scholarship provider, or other relevant parties and request that they issue these documents for you. You may also need to translate these documents into German or English if they are in another language.
Conclusion
Preparing financial statements for German universities can be challenging but rewarding. By following these guidelines and tips, you can ensure that you have all the necessary documents to prove your financial resources and eligibility for scholarships or tuition waivers. This way, you can focus on your academic goals and enjoy your study experience in Germany.